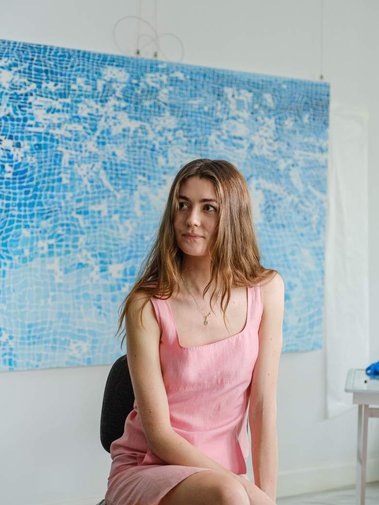 Holly Anderson works with painting to investigate sensory experiences with light and landscape. In continual reference to the bathers and sunlit subjects of romantic Australian landscape painting, various ways sunlight might accentuate the limits of perception or describe a strange permeability of the lit world are tentatively explored. In 2017 she completed a BFA with Honours at the Queensland College of Art in Meanjin, Brisbane where she now teaches sessionally.


Recent Exhibitions

23 September - 20 October 2022, Blue Sun/white shadow, public work commissioned for Judith Wright Centre, OuterSpace Gallery
September - November 2022, JADA Prize finalist exhibition, Grafton Regional Gallery
October 2022, Brisbane Portrait Prize finalist exhibition, Brisbane Powerhous
19 June 2021 - March 2022, City in the Sun, Museum of Brisbane
14 July - 20 August, 2021, Circling the Sun, Firstdraft, curated by Tim Marvin, Sydney
13 November - 22 December 2021, TWENTY, Mitchell Fine Art, Brisbane
5 November - 2021, National Emerging Art Prize Finalists exhibition, Michael Reid Gallery, Sydney
1 - 22 November 2021, The Brisbane Club, Collectors exhibition
14 August, Sensory Landscapes: Drawing workshop with Holly Anderson, Caboolture Regional Gallery
9 July - 7 August, 2021, Snapshot, Outerspace, Judith Wright Centre, Brisbane.
November 30, 2020 - 18 April, 2021, public installation in the Hutton Lane Lightboxes, Brisbane City as part of Sunny Side Up, curated by Sarah Thomson and Alex Holt
November 16, 2021, Drawing Invisible: Plein Air drawing class, workshop held in conjunction with Sunny Side Up exhibition, supported by Arts Queensland and Brisbane City Council
May 2, 2021, Sure Studio launch exhibition, curated by Laura Thomas, Sure Studios, Brisbane.
May 1-30, 2020, Small Acts, group exhibition at Innerspace Contemporary Art, Brisbane
February 2-15, 2020, Time and Place, AIRspace, group exhibition at Metro Arts, curated by Courtney Coombs, Brisbane
January 24-Feb 6, 2020, Boiling Point, group exhibition at The Third Quarter, Brisbane
August 9-28, 2019, Bikini Body solo exhibition at Innerspace Contemporary Art, Brisbane
June 3-16, 2019, Jelly Heart solo exhibition at Grey Street Galleries, QCA, Brisbane
April 16 - 27, 2019, Faded: Painting Towards the Invisible, group exhibition at The Pop Gallery, Brisbane
February 1 - 14, 2019, Tendrils, strings, solo exhibition at The Third Quarter, Brisbane
October 19 - 20, 2018, Scroll, group exhibition at STABLE Artspace, Brisbane
August 3 - 18, 2018, The Oh No Sun, solo exhibition at OuterSpace, Brisbane
June 1 - June 16, 2018 Play Selves, group exhibition at The Sunroom, Winnipeg, Canada
September 16 - November 4, 2017 An Intimate Distance, group exhibition at Spiro Grace Art Rooms, Brisbane
June 20 - July 16, 2017 Residency at House Conspiracy, Brisbane